Blog Archives
Every week I get a summary of climate news, funding, short courses, and available jobs from DISCCRS, the DISsertations initiative for the advancement of Climate Change ReSearch (pronounced discourse).  The summary includes both science media and popular media sources.  They are funded by NASA and the NSF, and co-directed by oceanographer Susan Weiler and political scientist Ron Mitchell.  I joined the listserv as a postdoc back in 2011 after attending a climate research training course at the National Center for Atmospheric Research in Colorado.  It made sense.  My postdoc focused on climate change adaptive learning and my doctoral dissertation had included a climate adaptation component.
So where's the hot mess in all of this?  The global climate.   The local climate.  The short-sighted financial interests, political ideologies, and deliberate ignorance informing current US federal climate policy.  The fact that I'm drafting a review article on the relationship between climate change and physical violence (one-on-one aggression, small scale conflict, and war), and all signs point to poor governance, structural inequality, environmental degradation, large scale structural shifts in society, and resource scarcity as key ingredients needed for the mix.  Oh, and perhaps a pinch of identity issues thrown in too for extra flavor.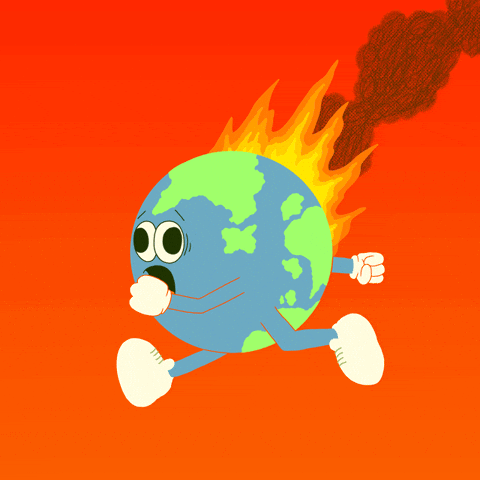 The weekly DISCCRS summary has always included some bad news, like ice shelves the size of Rhode Island calving off Antarctic type bad news, but 2017 seems even worse than 2016 from a climate news perspective.  There have been bright spots.  The EU and China are moving full steam ahead on the 2015 Paris Agreement and China just ran a whole province for a week on 100% alternative, renewable energy production.  US cities and states have joined them trumping the federal government's inadequacy in addressing probably the greatest challenge our world currently faces.  That's great news!  No denial from me on that.  But here are this week's emailed headlines…
I debate whether or not to click and read any of this hot mess knowing that it will feed the twin monsters of depression and demoralization.  I click and read anyway, knowing that hiding my head in the sand doesn't solve the problem.  The evidence is all around us that change is happening and I have to stay informed.
+++++++++++++++++++++++++++++++++++++++++++++++++++++++
If you are interested in receiving your own weekly climate hot mess summary: http://disccrs.org/subscribe
by Maria Sharova
As the end of the semester draws to a close, I am once again sitting down to try to map out my progress and figure out next steps. Over the course of the semester I have had meetings with a variety of amazing faculty who have told me about their research, I have selected my own methods for comparison, and I have selected my photos.
My methods for comparison include change in land use, change in sea level, erosion, and industry development. These speak to visual changes in environmental processes. Additionally, many pictures in the African photo database I accessed have descriptive metadata that provides, specific dates, photographers, and locations that could be further researched to locate a more specific modern photographic example.
I will compare the 8 historic images to pictures taken within the last 5 years to assess environmental change. My project will explore the applicability of using images collected from social media sites like Facebook, Flickr, and Instagram for citizen science of environmental change. Pictures posted online could be used in a variety of manners in future research endeavors. For example, there is potential to link social media to remotely sensed images or ground truthing. If changes in sea level could be tracked in pictures taken by tourists and supplemented with remotely sensed images taken over time, this could provide a more accurate and holistic view of change occurred. The potential to use photographs as a dataset in citizen science research projects is realistic, cost effective, and could provide valuable information.
Before the start of Spring Semester I will also need to finalize a list of committee members that will proof read my thesis, be present at my thesis defense, and finally provide final suggestions for edits that I will make to my paper.
I'm feeling really excited (and nervous) about my project! It's coming together nicely, and I have to credit Dr. Shaffer with being the most amazing advisor ever! She's been so patient with me and I definitely would not have gotten as far as I have without her expertise. I still have a lot of work to get through. I have to finish selecting my modern photographs, complete my background research on each photograph, actually write up my findings, and start thinking about future directions for the research (is there potential to use Landsat images of erosion and coastlines to study visual change in the environment over time?) Here's to health, happiness, and getting this project done in the New Year!
+++++++++++++++++++++++++++++++++++++++++++++++++++
Maria submitted this on 15 December 2015.  My apologies for the late posting. ~J.Shaffer
A good field researcher is relatively flexible and plans for the inevitable change of plans.  You still try to accomplish what you planned for – particularly when funding is attached.  However, ethnographic fieldwork is not bench laboratory work.  There is no real control, no do-overs, and your study subjects talk back.  This past summer I went to the field expecting to explore indicators of climate change, even though I wrote my research questions to be open to the possibility of discovering other sorts of environmental change indicators.  And while I did get to ask a few questions about responses to climate change, most local residents wanted to talk about elephants.  So I did.  It was a risk to go off "script", but given the stakes for my friends and others living in this place, a risk I think worth taking.
I think this seemingly abrupt change of plans initially made Jordan, my graduate assistant, uncomfortable.  However, as I said there was some flexibility built into my research plan.  When anthropologists go to the field to work with people, that means we work with them where they are.  Pushing and pursuing questions that have no relevance makes immediate research difficult, and future research darn near impossible.  This is something they don't tell you in school (and why pilot studies are so important).   The ongoing human-elephant conflict at my field site in Mozambique has entered a new phase, and as such, definitely constitutes a major environmental change to the social-ecological system.  Jordan finally got it when during one of her malaria interviews a woman told her that folks in the community wouldn't even be speaking to her if I weren't present.  They knew me and I was asking relevant questions (despite my anxiety that this wasn't going to pan out).   Right now, their focus and attention was on the elephants raiding their agricultural fields not malaria.  The health clinic in Salamanga provides free treatment for malaria so this wasn't really an issue.  Not having food to eat was an issue.
This fall seven anthropology students are working with Jordan and I to code our summer interviews, field notes, and digital images.  I can't take them to the field with me and given the elephant issue that might not be wise anyway.  However, they can learn how to use basic ethnographic tools and we are getting a serious lot of data organized in preparation for full analysis.  They will also help with some of the analysis, but the primary goal is to provide some hands on training on what it is that anthropologists actually do.   One of the first products we will produce is a report on the state of the human-elephant conflict in Matutuine District based on the data we collected this summer.  This will be sent to various Mozambican government agencies and the local communities.  Report writing is an important part of applied anthropology.  I would also like to put together a short piece for Mozambican newspapers, and maybe something on living with charismatic megafauna for American newspapers.  Elephants are one of the coolest animals ever, but they are also incredibly destructive if they are running loose in your maize and cassava fields.
We had a lot of visual data this summer – mine and some from local photographers who are participating in a PhotoVoice project documenting local changes to the environment.  Yesterday I used some of this data to put together a short video for my ANTH 222 course (Introduction to Ecological and Evolutionary Anthropology).  We are currently talking about biotic and abiotic factors and processes that influence evolution and shape landscapes.   Given that every term students ask me to talk more about my research, I thought the human-elephant conflict a good example.  Competition for food, water, & space resources, population growth, keystone species, fire, shifting climatic factors, national & international laws, cooperation, etc.  I've posted it below.  Please note there are some graphic depictions of animal butchering if you are squeamish.