Blog Archives
Every week I get a summary of climate news, funding, short courses, and available jobs from DISCCRS, the DISsertations initiative for the advancement of Climate Change ReSearch (pronounced discourse).  The summary includes both science media and popular media sources.  They are funded by NASA and the NSF, and co-directed by oceanographer Susan Weiler and political scientist Ron Mitchell.  I joined the listserv as a postdoc back in 2011 after attending a climate research training course at the National Center for Atmospheric Research in Colorado.  It made sense.  My postdoc focused on climate change adaptive learning and my doctoral dissertation had included a climate adaptation component.
So where's the hot mess in all of this?  The global climate.   The local climate.  The short-sighted financial interests, political ideologies, and deliberate ignorance informing current US federal climate policy.  The fact that I'm drafting a review article on the relationship between climate change and physical violence (one-on-one aggression, small scale conflict, and war), and all signs point to poor governance, structural inequality, environmental degradation, large scale structural shifts in society, and resource scarcity as key ingredients needed for the mix.  Oh, and perhaps a pinch of identity issues thrown in too for extra flavor.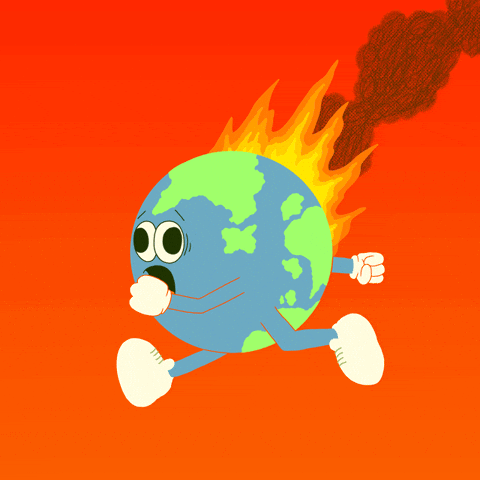 The weekly DISCCRS summary has always included some bad news, like ice shelves the size of Rhode Island calving off Antarctic type bad news, but 2017 seems even worse than 2016 from a climate news perspective.  There have been bright spots.  The EU and China are moving full steam ahead on the 2015 Paris Agreement and China just ran a whole province for a week on 100% alternative, renewable energy production.  US cities and states have joined them trumping the federal government's inadequacy in addressing probably the greatest challenge our world currently faces.  That's great news!  No denial from me on that.  But here are this week's emailed headlines…
I debate whether or not to click and read any of this hot mess knowing that it will feed the twin monsters of depression and demoralization.  I click and read anyway, knowing that hiding my head in the sand doesn't solve the problem.  The evidence is all around us that change is happening and I have to stay informed.
+++++++++++++++++++++++++++++++++++++++++++++++++++++++
If you are interested in receiving your own weekly climate hot mess summary: http://disccrs.org/subscribe
by Maria Sharova
These first few weeks of school have been crazy—between family issues, the GRE, and my amazing new internship at the U.S. Global Change Research Program, I am finding it difficult to sit down and flush out ideas for longer than an hour at a time. But I have made some progress!
When I left off my Independent Project last semester, I had compiled a series of 10 photos from Angola and Mozambique depicting visual change over time—whether it be environmental, political, or economic. This semester, I am working on my honors thesis, which involves the same set of images, but with a different set of questions in mind. I will still be doing a comparison of old pictures to modern images, but I will be focusing on landscape photographs rather than portraits. The main idea I hope to address in my research is that of pictures being a legitimate source of information (in the way that quantitative measurements are). Can images created for non-research purposes be used as scientific evidence for identifying and quantifying environmental change? What changes can be measured based on images we have?
With this set of questions in mind, there are already several aspects of my research that I would like to identify more thoroughly. I would like to solidify my methods for comparing the images I select. What exactly will I be looking for between the old photograph and the new photograph? Erosion? Change in water? Change in crop yield? Change in crop type? This will of course depend on the images I select. Furthermore I would like to identify methods of quantifying that change. Will I be literally taking a ruler to the picture? Most likely not, but how will I quantify change in the photographs? Unlike last year, I am not confining myself to a specific country—instead I am working with the full range of images I have.
I have a few meetings set up with other faculty members who have done some visual anthropology, and I am excited to discuss their methods and projects with them. My project, I feel will be significantly different, since I am viewing my analysis as a form of citizen science, without the citizens knowing that they are participating in research. Social networks and social media can be regarded as an untapped data source. People are constantly taking pictures of the places they visit, so developing a methodology for using those photographs to analyze changing climates could be very interesting and useful to scientists. Here's to hoping the next few weeks go well!
This morning I received news from my postdoc adviser that an article she wrote (with help from the rest of the team) has been published in Environment and Planning A.  I have mixed feelings.  I'm super happy that the work has been published.  Everyone on the ALCCAR team has worked hard and what we've discovered about how scenario-building in rural Africa can help folks plan for future climatic uncertainty is important.  On the other hand, the peer-reviewed publishing process is frustratingly long.
From how long it sits in an editor's inbox, to the time it takes for reviewers to do their thing, to the editing and resubmitting, potential re-review, and then all the final typo, image, and type-setting stuff.  The time from submission to final publication can be 1-2 years in the social science world.  Reviewers don't get paid, so understandingly reading someone else's paper is low on the priority list.  And don't get me started on the page fees some journals charge.  Again, I understand costs – particularly if they are open access, which I support.  What I don't understand is where they expect the money to come from.  At least for anthropologists, you don't write publication fees into your grant proposals.  There is barely enough funding to go around with the government cuts to NSF budgets.  Perhaps this is ignorance on my part, but if so I'd like to be enlightened.
You might suggest skipping peer-reviewed publication.  As a relatively new, assistant professor on the tenure track I can't do that.  I get no scholarly credit in my tenure portfolio for blogging or writing for a lay public or writing government reports for politicians and land/resource managers.  It still is "Publish or Perish" in the academy.  Sad, but true.  I teach, and certainly some of my students will go out and help others.  As a teacher though, there are days I feel like a stormtrooper on the Death Star firing my laser gun in the off chance I might actually hit something.
Environmental change is an ongoing process that people are constantly coping with and adapting to.  Given the things that we could potentially learn and share, so that others might reduce their risk and uncertainty, the peer-reviewed publication process seems way too long.  Actually, the peer-reviewed publication process – given who is impacted by changes – seems really inappropriate.  The farmers and fishers I work with are not going to surf online journals looking for adaptation and coping alternatives.  Not all have access to electricity, let alone the internet or the ability to read the dominant language used – English.  The aid workers who help them out probably won't read online journals either.  And politicians?  That is a big known, unknown for me.  Perish or Publish?
How do we get what we've learned out to the people who need it most?  This is a question that wakes me up at 3am, and keeps me from really relaxing on weekends.  In the meantime, I will enjoy the fact that I've been published again and hope that someone, somewhere will find our work useful.
---
2014. Tschakert, P., K. Dietrich, K. Tamminga, E. Prins, J. Shaffer, E. Liwenga, and A. Asiedu. Learning and envisioning under climatic uncertainty: an African experience. Environment and Planning A 46: 1049-1068.
Abstract. Learning about and embracing change and uncertainty are essential for responding to climate change. Creativity, critical reflection, and cogenerative inquiry can enhance adaptive capacity, or the ability to anticipate, prepare for, and respond to adverse future impacts. However, precisely how learning about change and its driving forces occurs and how experiences are combined with envisioned yet indefinite prospects of the future are poorly understood. We present two linked methodological tools—an assessment of drivers of change and participatory scenario building—used in a climate change adaptation project in Ghana and Tanzania (ALCCAR). We discuss opportunities and challenges of such iterative learning. Our findings suggest that joint exploration, diverse storylines, and deliberation help to expand community-based adaptation repertoires and to strike a balance between hopelessness and a tendency to idealize potential future realities.
Keywords: scenario building, drivers of change, coproduction of knowledge, possible futures