Category Archives:
communication
Every week I get a summary of climate news, funding, short courses, and available jobs from DISCCRS, the DISsertations initiative for the advancement of Climate Change ReSearch (pronounced discourse).  The summary includes both science media and popular media sources.  They are funded by NASA and the NSF, and co-directed by oceanographer Susan Weiler and political scientist Ron Mitchell.  I joined the listserv as a postdoc back in 2011 after attending a climate research training course at the National Center for Atmospheric Research in Colorado.  It made sense.  My postdoc focused on climate change adaptive learning and my doctoral dissertation had included a climate adaptation component.
So where's the hot mess in all of this?  The global climate.   The local climate.  The short-sighted financial interests, political ideologies, and deliberate ignorance informing current US federal climate policy.  The fact that I'm drafting a review article on the relationship between climate change and physical violence (one-on-one aggression, small scale conflict, and war), and all signs point to poor governance, structural inequality, environmental degradation, large scale structural shifts in society, and resource scarcity as key ingredients needed for the mix.  Oh, and perhaps a pinch of identity issues thrown in too for extra flavor.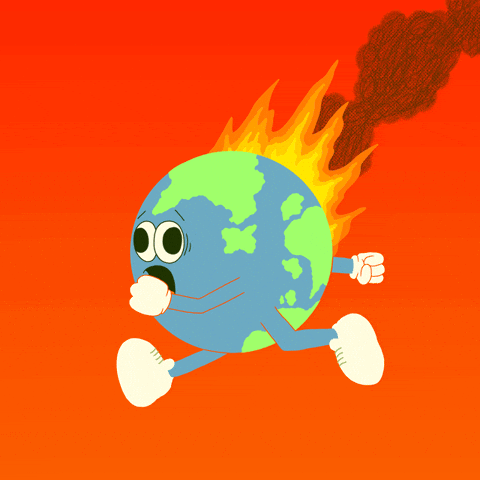 The weekly DISCCRS summary has always included some bad news, like ice shelves the size of Rhode Island calving off Antarctic type bad news, but 2017 seems even worse than 2016 from a climate news perspective.  There have been bright spots.  The EU and China are moving full steam ahead on the 2015 Paris Agreement and China just ran a whole province for a week on 100% alternative, renewable energy production.  US cities and states have joined them trumping the federal government's inadequacy in addressing probably the greatest challenge our world currently faces.  That's great news!  No denial from me on that.  But here are this week's emailed headlines…
I debate whether or not to click and read any of this hot mess knowing that it will feed the twin monsters of depression and demoralization.  I click and read anyway, knowing that hiding my head in the sand doesn't solve the problem.  The evidence is all around us that change is happening and I have to stay informed.
+++++++++++++++++++++++++++++++++++++++++++++++++++++++
If you are interested in receiving your own weekly climate hot mess summary: http://disccrs.org/subscribe
Last summer I challenged myself to use Twitter's social media platform (@jin_verde) to get more information out about the work I do as an ecological & environmental anthropologist. I'm not sure I did a great job promoting my own work – mainly focused on climate change and biodiversity conservation. But I have been consistent in highlighting what scientists in my field do and how they contribute to supporting the well-being of individuals and communities. (And the work of scientists in related fields.) I love finding and sharing success stories, useful links, and serendipitous findings. Unfortunately, there is no shortage of bad news when it comes to climate change and biodiversity conservation. Finding these bright points I like to share is a little more difficult, but so necessary.
It is needed as part of our larger efforts as scientists to share our knowledge and results more publicly. If the federal government is no longer willing to promote science to the public, then we need to do so ourselves. Many already are, but more of us need to be involved because federal agencies are wiping important public information off their websites under orders of their new heads. My goal then this summer is to publish a short essay every two weeks about my research, ideas I'm working on, ecological anthropology methods and processes, and environmental/climate information. I posting this here so that I can shame myself when I don't follow through.
But there are other ways for scientists, science teachers, and science supporters to get involved, be heard, and make our scientific work known for the benefit of all living beings on this planet. Last Saturday I Marched for Science with my husband and another scientist friend, a marine ecologist, in the cold rain. Yesterday, I braved record-breaking heat (91F, plus humidity) to participate in the People's Climate March. It's 2017.  Why do I need to do this? The GOP-led Congress and Trump Administration are pushing our shared planet America first into a dystopic nightmare in the name of Free Market Capitalism. Or Capitalismo Brutal as my husband would say. Resisting actions that place our life support systems – land, air, water – at risk is important. For years we've been told to take personal action to reduce those risks at the individual level (e.g. Reduce, Reuse, Recycle), but standing together as a public, as a community, and resisting short-sighted ignorance is equally important.
Last weekend, scientists around the world took the fight for science to the streets. We can also call our legislators, run for office, hold teach ins and give public lectures. Most importantly we can keep doing science. #ScienceNotSilence
There is nothing which can better deserve your patronage, than the promotion of Science and Literature. Knowledge is in every country the surest base of public happiness.
-President George Washington, 8 Jan 1790, 1st State of the Union Address to Congress
Earlier this week a fellow anthropologist from Australia posted a suggestion to our environmental anthropology listserve that we "consider ways to move our posts and conversations online to Twitter. I am serious about this."  I giggled.  Not at my colleague, because I think she's absolutely right about the need to take our work to the people, but at the idea that anthropologists could condense their thoughts into 140 characters.  Despite our ability to craft pithy interview questions and participant observe quietly for hours on end in far-flung communities, members of our chatterbox tribe tend to pontificate when provided the opportunity.  We are a long-winded and multi-syllabic people.  Yet a challenge had been issued.   And that's when I found myself reopening a Twitter account from 2009 to see how it had evolved.
My fellow environmental anthropologist raised some great points about how Twitter could be used by us all to reach a wider audience.
Are you worried about the public understanding of how environmental anthropology can help respond to pressing regional and global issues?
Would you like more people to know about your recent publications, job announcements, or call for papers?
Would you like to expand your network of colleagues, potential collaborators, and co-authors?
Is your university placing increased emphasis on rewarding scholars who seem publicly visible and engaged?
Would you like an open-access forum to debate topics about environmental anthropology, one that includes public participation?
Would you like to help build a database of searchable resources that secondary, higher education, and continued education learners could access on their smartphones and tablets within seconds of following a hashtag?
As a whole we are an invisible tribe.  That is not to say that exceptions don't exist.  Margaret Mead, Temperance Brennan, and Indiana Jones are the most likely candidates for household recognition (well, at least those are ones my mom could name quickly), and two of them are fictional characters.  Those of us who work at the human-environment interface should really be making our work more widely known.  Sure a virus or an asteroid could wipe out life as we know it, but the majority of environmental problems we face as a species have their roots and solutions in human behavior and decision-making.
Engaging the public by relating what we do, how we do it, and what it means requires that we actually put something out there for consideration, recognize that people will respond, and commit to civil conversation that may take us in unexpected directions.   Public environmental anthropology might not get counted towards tenure (if that's your goal), but it takes a step towards building scientific literacy, public trust, and a community that works together to make the planet a more sustainable place for all living beings.
So, I accept the challenge and will give Twitter a try for the summer. #environmentalanthropology
For more information: